Nantsuttei has branches overseas and in Tokyo as well as its main location in Hadano, Kanagawa. Please drop by if you're in the neighborhood!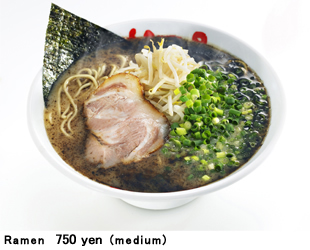 Nantsuttei's basic, famed ramen. The simple combination of our rich, creamy pork bone soup, aromatic roasted garlic oil, and homemade char siu is the standard of our unwavering popularity. We also offer a wide array of toppings on our menu that is sure to give you fresh delights again and again.
Check out the original Nantsuttei Ramen Eating Lesson available at all of our locations.
Orchard Road,Orchard Central
address
181 Orchard Road,Orchard Central,
#07-12/13 Singapore 238896
TEL
(65)6337 7166
business hours
11:00am~10:30pm (LO 10:00pm)
holiday
None
seats


View Larger Map
---
Hadano (head office)
| | |
| --- | --- |
| address | 1-2, Matsubara-cho, Hadano-shi, Kanagawa 259-1313 Japan |
| TEL | 0463-87-8081 |
| business hours | 11:30am-11:00pm (LO11:00pm) |
| holiday | None |
| seats | 27 (15 counter, 12 table) |


View Larger Map
Look for our sign that says, "It's Tasty, Baby!" along route 246.

By train:
At Shibusawa Station on the Odakyu Line, use the north exit, cross the street at the Shibusawa Station Entrance crossing, turn right, and walk for roughly five minutes.
By car:
「秦野・Exit route 246 at the Hadano Nakai Interchange. Our shop is located 100 meters before the Shibusawa Station Entrance crossing.
Parking is located in the back. If the parking lot is full, we ask that you use a nearby parking lot.

---
Shinagawa
| | |
| --- | --- |
| address | 3-26-20, Takanawa, Minato-ku, Tokyo 108-0074 Japan |
| TEL | 03-5791-1355 |
| business hours | 11:00am-11:00pm (LO11:00pm) |
| holiday | None |
| seats | 23(15counter, 8 table) |


View Larger Map
Located in "Seven Noodle Masters" Shinatatsu in front of Shinagawa Station. Look for the sign that says "Nantsuttei 2."
Shinatatsu's Website
---
Kawasaki
| | |
| --- | --- |
| address | 26-1, Ekimae Honcho, Kawasaki-ku, Kawasaki, Kanagawa 210-0007 Japan |
| TEL | 044-223-1603 |
| business hours | 11:00am-10:30pm (LO 10:10pm) |
| holiday | None |
| seats | 24(16counter, 8 table) |


View Larger Map
Located in Ramen Symphony on floor B1 of the Atre Kawasaki building, home of JR Kawasaki Station.
Atre Kawasaki's Website
---
Mito
| | |
| --- | --- |
| address | 4F, Excel Minami, 1-7-31, Miyamachi, Mito, Ibaraki 310-0015 Japan |
| TEL | 029-306-9995 |
| business hours | 11:00am-10:00pm (LO9:45pm) |
| holiday | None |
| seats | 28(6counter, 22 table) |


View Larger Map
JLocated in Ramen Kaido in the Excel Minami building, home of JR Mito Station.
Excel Minami's Website
---
Okachimachi
address
Dai2 Okachimachihashi Kohkashita
5-10-14 Ueno Taito-ku ,Tokyo Japan 110-0005

TEL
03-5812-4412
business hours
11:00~23:00(LO23:00)
holiday
None
seats
22(10counter, 12 table)


大きな地図で見る
---
Nantsuttei Thailand
address
Nantsuttei, Siam Paragon
Shopping Complex Ground Floor,
991 Rama1 Road,
Pathumwan,Bangkok 10330
TEL
(66)2610-7635
business hours
10:00am-10:00pm
holiday
None
seats
35


View Larger Map
---
NANTSUTTEI EMQUATIER
| | |
| --- | --- |
| address | B. FLOOR, 689 SUKHUMVIT ROAD ,KLONGTON-NUA, WATTANA, BANGKOK, 10110 , |
| TEL | (66)2261-0214 |
| business hours | 10:00am~22:00pm |
| holiday | Open every day of the years |
| seats | 42 seats |
---