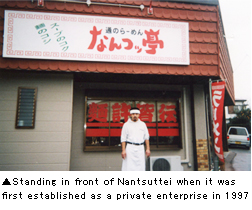 I'm Ichiro Furuya of Nantsuttei.
I first landed in the ramen business, my life's calling, when I was 27 years old.
Before then, I was simply slogging my way through life with no real goals and no idea what to do. Then one day, I saw something on TV that changed my life. It was a mass of people lining up in front of a ramen shop.
At that moment, I thought to myself, "That's what I want!" Soon after, I went to Kyushu to learn the secrets of the art of ramen. After wandering around trying ramen at various shops, I found a flavor that caught my fancy in Kumamoto and studied there while working at a liquor store. One year later, I opened Nantsuttei in my hometown of Hadano.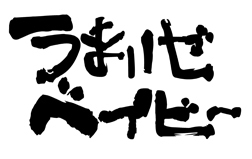 That was where my real training started. My shop was open, but its location was poor, and days went by with no customers coming in. However, if I had a flavor that could only be found at Nantsuttei, they would come. With that belief in my heart, I tried again and again for weeks to find my flavor.
At last I managed to create a pork bone broth that was rich and creamy without an unpleasant odor, noodles that fit the broth perfectly, and topped it with "Ma-yu," black roasted garlic oil made with a secret recipe. I will never forget the sense of satisfaction I felt. Word of mouth slowly but steadily drew more customers in, and at some point I had attracted media attention.
One day I was thinking to myself, "I'm pretty busy today," and glanced out the window. I was shocked at the view that greeted me. People were lining up outside! I must say I was pleased with myself.
I had finally found the flavor of Nantsuttei. But that was just the beginning. If I ever fail to recreate that flavor and disappoint a customer who has waited in line, I will lose that customer forever. I understand now that maintaining a flavor is a harsh task.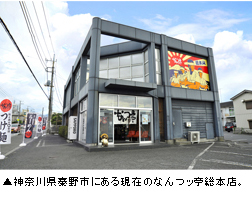 In 2003, we moved the main restaurant to our current location. It was here that the restaurant picked up steam. The following year we opened a branch in front of Shinagawa station called Shinatatsu. The year after that saw the opening of a branch in the Kawasaki Station building.
In 2007, our ramen was chosen as Ramen of the Year for the third year running in Tokyo Isshukan magazine published by Kodansha and our shop has been featured in a variety of media. One time that sticks out was our appearance on Jounetsu Tairiku shown on May 2010 on Tokyo Broadcasting System Television. We opened a branch in Singapore that year. Launching it had really drained all of us and the camera was there capturing us in all of our haggardness.


Opening a branch overseas was a growing experience for us in more ways than one. It made us realize again the appeal and power of ramen, a Japanese national dish. We were filled with a new sense of passion. The flavor of Nantsuttei refers to never compromising on the taste of our ramen, of course, but it also means cheerful service and an unpretentious place to eat that is open to anyone. We want everyone to savor that experience. With our hearts filled with gratitude, sincerity, enthusiasm, harmony and a sense of challenge ever since we were founded, we continue to march forward one step at a time.

≫Appearance on the May 2, 2010 edition of Tokyo Broadcasting System's Jounetsu Tairiku  http://www.mbs.jp/jounetsu/2010/05_02.shtml
In this report covering the opening of our first overseas branch in Singapore, you can see Mr. Furuya's vivacity, unexpected happenings, the tension of whether or not people overseas would enjoy the food, the joy of success and more. For further information, you can read Jounetsu Goroku.
≫If you want to know more about the story of Nantsuttei, this is the place.
「Ichiro's Tale」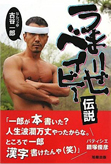 ≫ Umaize Baby Densetsu (The "It's Tasty, Baby" Legend) by Ichiro Furuya (published by Asahiya)
Ichiro Furuya's first written work, this volume uses his unique tone to tell an uplifting story that looks back through fifty years and reveals the life of a man who never knew what to do until a fateful encounter with ramen in his 20s.