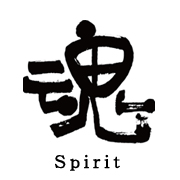 The four most important items in creating Nantsuttei's original flavor are our soup, noodles, char siu and "Ma-yu" black roasted garlic oil.
Some say that ramen isn't truly cuisine, but I believe its simplicity is what gives it depth. The way these four items harmonize and interact is what creates a truly excellent dish.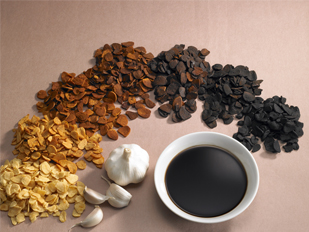 Our flavor comes from rich, creamy pork bone soup without the usual unpleasant odor, noodles and char siu in harmony with that soup, and to bring it all together, Nantsuttei's "Ma-yu" black roasted garlic oil.
Calling our secret roasted garlic oil the keystone of Nantsuttei's flavor would not be an overstatement.
We fry garlic in seven different steps and then blend it with cooking oil and sesame oil to create pitch-black oil that condenses the flavor of garlic perfectly. Its unique bitterness and aroma bring the sweetness and savor of our pork bone soup to a new level.
Roasted garlic oil is currently an "in" thing, and Nantsuttei blazed the way. We are pioneers of flavor!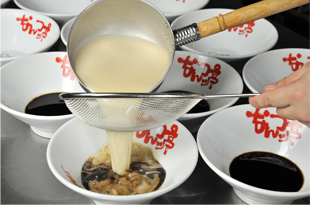 It took many, many tries, but at last, Nantsuttei's soup was born.
The ingredients of our soup are pig head and chicken bones. That's all. In order to make our soup richer, we use a lot of them.
To make sure the marrow melts down well, the bones are all broken, then boiled under pressure in pure water for 24 hours. During that time, impurities that form on the surface are regularly removed.
Pork bone soup lives by emulsion. As marrow melts, the collagen within it works as an emulsifier. The water and oil emulsify as they boil in the pot, so a careful eye on the heat is a must. You cannot rest, even while you are simply boiling soup.
Nantsuttei's soup is made with twice the work and effort of ordinary soups.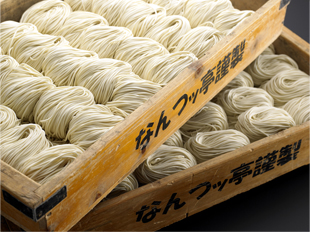 Pork bone soup has volume and needs noodles that go down smoothly. It took a lot of experimentation to find a formula that worked in our in-store noodle preparation room.
In the end, we came up with slightly dry, straight noodles of medium thickness created with a special blend of flour.
The flavor of Nantsuttei's noodles is maintained with an artisan's skill and never change.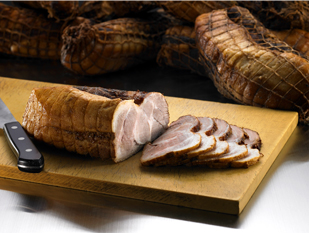 Our char siu is made to bring out maximum flavor when it has become one with the soup inside the bowl, rather than clashing with it.
It tastes best when it has become tender from sitting inside hot soup for a while.
You can call it the centerpiece of the bowl!
It is guaranteed to satisfy.